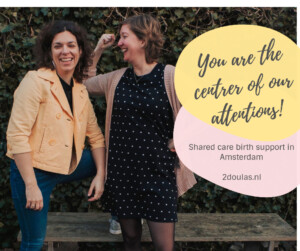 New concept of shared care birth support in Amsterdam
I am so happy to call you my friend, colleague and partner in birth, Denise van Eeden.
We have been working together in the last 6 months to create something special, and today is our official launching date as 2Doulas, offering shared cared birth support in Amsterdam.
Our new website is also ready, check it out! I am super happy about how the photos turned out, really hope that our vibe comes across when you click through the pages.
What does the 2Doulas concept mean for us?
having a colleague means we have in-house supervision, creating space for reflection on our work practice
we can give feedback and advice to each other
healthy, sustainable way of running a demanding doula business, where we have the possibility to take care of ourselves, so we can take the best care of you
Honestly, being a doula is a very lonely profession in my opinion. There are always new families within our care and support, always with new stories, bringing in their own views on becoming a parent, giving birth. So in one hand it is an ever changing, very versatile job with constant new challenges, which I absolutely love. On the other hand I have been on my own  for the last years, with only the occasional chance to reflect upon what has happened with another doula in my circle. So for me to be able to have a colleague is so uplifting and makes me extremely happy! I truly believe it makes me become better at what I do, because I have the chance to reflect and evaluate better than before.
What does the 2Doulas concept mean for you as our client?
true 24/7 availability during the whole year, including holidays
wider range of services available to you during pregnancy, birth and also in the postpartum period from the same, trusted people
we are 2 like minded professionals, therefore you can expect the same level of care and same energy from both of us
small scale practice to offer you our undivided attention
We are there for you all along this exiting journey! Contact us for an introduction meeting.