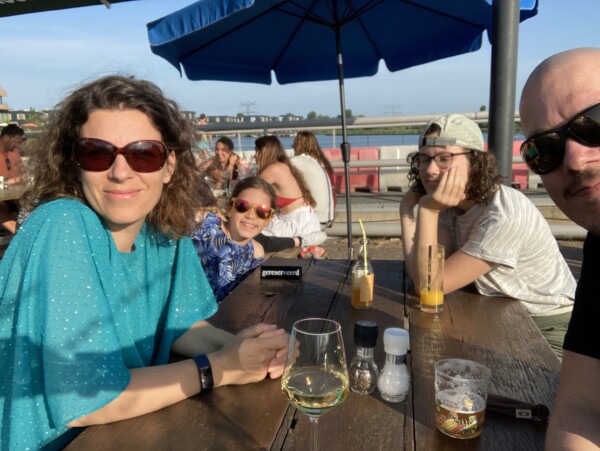 About me
My name is Julia Szalai, I am a birth doula, yoga teacher and student midwife. I am passionate about the power of women circles, enjoy creating things with my hands and would grasp an opportunity to sing anytime, anywhere. I live in Amsterdam with my husband, our two girls and a gigantic black cat.
As a birth doula I offer:
My story
I have arrived to the birth world through my own experiences of becoming pregnant and giving birth in my home country. The greatness of birth touched me on so many different levels, and because my own experiences were so much more positive and different to those stories I heard from people around me, I felt I needed to learn how to change that. My older daughter was 1,5 years old and I was already pregnant with our second daughter when I started the doula training in 2012. To be able to further grow in my vocation I am currently studying to become a midwife.
I have supported parents and families from all around the world in all possible settings, helping them navigate the Dutch healthcare system that might be very different to what they are used to. During my prenatal yoga classes I have met hundreds of women, supporting their physical and mental wellbeing.
I am constantly educating myself on the fields of pregnancy and birth related topics. There are some special areas where I have a lot of experience and I feel passionate about:
supporting single parents
supporting people who wish to have a VBAC – a vaginal birth after a Caesarean
supporting parents at the time of birth when baby is not alive in any trimester
supporting parents in pregnancy and in birth after a perinatal loss
It is important to me that you know about all the options available for you and your wishes and worries are heard and respected. I support you to feel safe in your chosen surroundings so that your birth becomes a calm and empowering experience for you, your partner and your baby. I am looking forward to listen to your story and support you on this wonderful journey.
Education
Vroedkunde (BA) – Thomas More College, Turnhout (2020- ongoing)
Pregnancy massage training – workshop by Joyce Hoek-Pula (February 2020, Amsterdam)
Birthlight Yoga for Maternity – Level 2 course (June 2017, London)
Birthlight Yoga for Maternity – Level 1 course (June 2016, London)
Spinning Babies – workshop (May 2016, Amsterdam)
Aromatherpay for birth professionals – workshop by Joyce Hoek-Pula (February 2016, Amsterdam)
Békés Doula Circle – 150 hour extensive doula course (February 2014, Budapest)
Ina May Gaskin – one day workshop (November 2013, Fürstenfeld)
Perinatal and pregnancy loss support – workshop for birth professionals by Magdolna Singer (February 2013, Budapest)
Békés Doula Circle – basic doula training (April 2012, Budapest)
Assertive communication training – (June 2009, Budapest)