Relaxing, full body pregnancy massage in the comfort of your own home
The pregnancy massage I offer is a relaxing, reassuring touch that helps you connect to your changing body. I am coming to your home to give you 1,5 hours of my sole attention, easing discomfort and lifting your mood. This massage style focuses on you and your level of comfort without the aim of muscle manipulation, therefore it is safe and beneficial during pregnancy.
How do I massage?
I bring towels, pillows and sheets to cover those on your own bed. You can lay down on your side, with lots of cushions around you to make it fully comfortable. The massage is done on the bare skin with neutral oils that I bring, or with your favorite massage oil that you might already have.
Benefits of a relaxing massage during pregnancy:
warms up the body and as such allows for better circulation

helps with digestion and stimulates appetite

helps to reduce swelling in the feet and legs, improving the lymph system's ability to remove tissue waste in the body

helps to reduce stress and anxiety, allowing you to sleep better after the massage

through the release of oxytocin from attentive touch, massage can also be helpful in the last days of pregnancy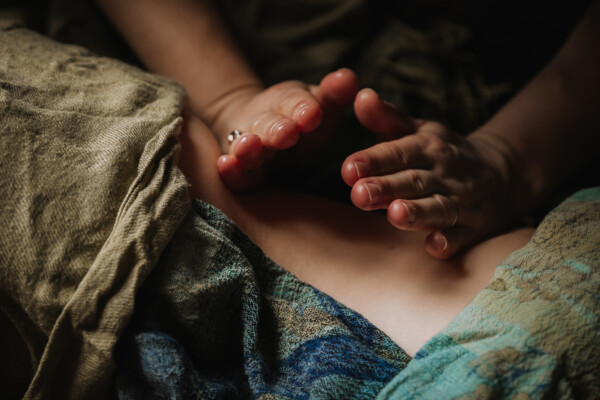 Price: €110 ( €90 for doula clients)
Location: in your on home in Amsterdam – parking costs are included in my price.
Would you like to learn more about my doula services?